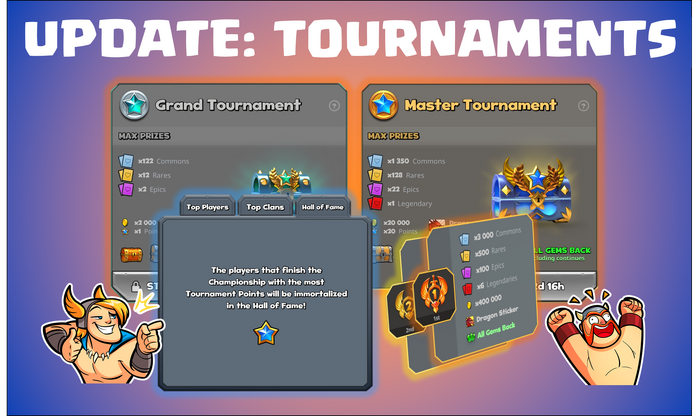 introduction
Hype Hype hype! - you can battle now in tournaments against other Crushers, show who is the stronger Crusher and get incredible prices!
tournaments
🏆 Prizes: Every round you win you accumulate more prizes. After 10 wins, you will receive the maximum prize pool! Also, in some rounds you will win extra prizes the first time you pass through them. They include: Chests, medals, new stickers, tournament points and more!
Tournament Points:
Tournament points are won every time you win the 10th round of a tournament. By the end of the three days that the tournament lasts, all tournament points will be added and players will be ranked according to how many points they got. The first 100 players (overall) will get awesome rewards and the players with the highest points will be immortalized in the hall of fame! Remember, you can play multiple tournaments to accumulate lots of tournament points. In case of a draw, the first player to reach that amount of points will be ranked first.
Exclusive Stickers:
There will be three new exclusive stickers only obtainable during the tournament. One will be awarded to players that beat the 10th round of a Grand Tournament, one to players who beat the 10th round of the Master Tournament and one will be given only to the player with most tournament points!
Medals:
Medals will be acquired upon completing specific stages. They are collectible and can be seen in players' profile.