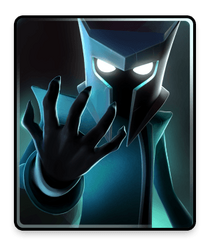 "He steals a portion of the soul of each allied troop to boost his own strength."
Introduction
The Spectre card is unlocked in the Demon's Hold (Castle 4). He is a single-target melee unit with low-moderate health and damage. If there are any units in the field, he will 'steal a portion of the soul of each allied troop' in order to boost his own strength, according to the description. He gains more health and damage after stealing the units' souls, which is listed in the Statistics chart below. The more units there are on the field, the stronger he gets. His strength gained is indicated by a "+n", with n being the amount of units there, and a size growth when he spawns. If there are no units and you spawn him, the strength indicator will only say "+1", meaning that he only has the set hitpoints and damage. To find out his strength, you have to multiply his bonus health and/or damage by level, say x, by the indicator's number, say y. Then add the total by his normal statistics. For example, if a Level 4 Spectre spawned with "+12", his health and damage will be 2,204 and 458. The Spectre card costs 6

to deploy.
Strategy
Because the Spectre's health and damage increases for every allied unit, deploying him after the Skull King, Archers Tribe, or Skeletons Swarm will greatly increase his statistics because of the number of units spawned.
It is not recommended to use him when there is an empty field as he doesn't have the most health and/or damage. A Demon's spawn damage can easily counter a lone "+1" Spectre, resulting in a waste of 6 .
Other Information
History
History
2016
Introduction of Spectre
Community content is available under
CC-BY-SA
unless otherwise noted.