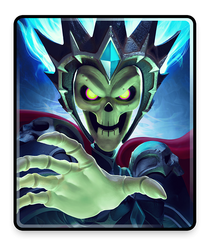 "The undead Queen will personally lead allied Skeletons in a battle, increasing their damage as long as she's on the battlefield."
Introduction
She was a mighty and powerful Queen in life. When she died, she was mummified to an extent, somewhat like the ancient Pharaohs.

Black magic was used in her corpse and made her come back as a Skeleton Queen. Some of this magic still radiates from her in the form her undead aura

She Costs 6 and her rarity is Legendary!
Strategy
Other Information
History
History
13th September 2017
Introduction of Skull Queen
18th October 2017
Balace-Changes

Mana cost reduced from 7 to 6.
Attack reduced by 33%.