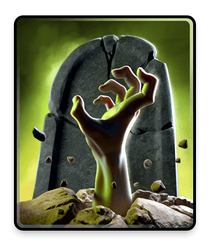 "Bring back to life all your troops that died in the last seconds."
Introduction
Costs 5
Strategy
a strategy with the ressurection spell is using a ton of small units (like
skeletons
,
skeletons swarm
,
archer's tribe ect
...) and when they all die at the same time to an unit or a spell (like
arrow
,
inferno
,
executioner
ect...) use the ressurection spell to revival them all and if you have one in your deck,use the spectre to get a strong unit
Other Information
History
History
2016
Introduction of Resurrection
14th February 2015
Changes to Castle's Cards

Resurrection from Castle 4 to Castle 5 changed.

21st August 2017
Bug fixes

Improvements increase the hit points of a troop by 10%. In doing so, we improve the level of each level to the other cards.

18th October 2017
Balance-Changes

Time Dead reduced from 7sec to 6sec.
Community content is available under
CC-BY-SA
unless otherwise noted.