| | | |
| --- | --- | --- |
| | This site is expandable. You can help Castle Crush Wiki by adding more information to this page/section. | |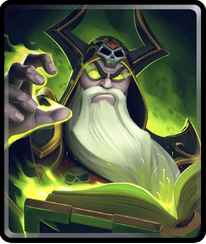 "The dreadful Necromancer will bring your troops back to life in his current lane as long as he stays alive!"
Introduction
Strategy
The Necromancer will automaticly bring troops back to live, provided he does not get killed.

Using him with Protection is great against spells and certain troops.

Make sure you protect him well, since high damaging troops counter him easily, you'll want to put a tank in front of him — e mindful of Meteors if you did not bring protection.
Statistics
| Costs | Rarity | Targets | Speed | Range | Deploy Time |
| --- | --- | --- | --- | --- | --- |
| 7 | Legendary | Troops | 3 | 25 | 1s |
| Level | Health | Attack | Revival Health |
| --- | --- | --- | --- |
| 1 | 536 | 172 | 215 |
| 2 | 590 | 190 | 237 |
| 3 | 649 | 209 | 260 |
| 4 | 714 | 221 | 286 |
| 5 | 786 | 242 | 315 |
Other Information
History