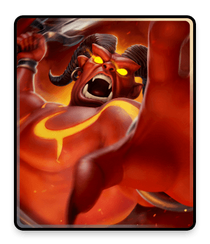 "The flames of hell will burn the weakest enemy on its lane."
Introduction
Costs 6
Strategy
The Demon's main use is to kill weak troops that have high attack. Using the demon to kill a Mage will be a fair trade. Also, the Demon can be used as a tank for other range units.
He can be used to break a push by killing the suport and leaving the tank on the skellies.
Other Information
History
History
2016
Introduction of Demon
Community content is available under
CC-BY-SA
unless otherwise noted.