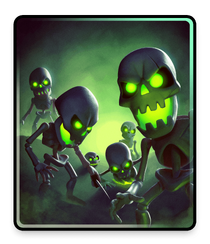 "Skeletons will randomly spawn on the three lanes based on the number of cards you have"
Introduction
The Boneyard Spell costs 4 to deploy.
The place they are spawning is completely random as well, as the number in one lane except that they are spawning in groups of two always.
Available in Chests at Castle 7 (Angelic Temple).
Strategy
Other Information
History
History
22nd January 2018
Introduction of Boneyard
-
Balance-Change

Self-counting was removed